One moment you might be enjoying a family day out and the next, two of the most important people in your life need round the clock care. That's what happened to us…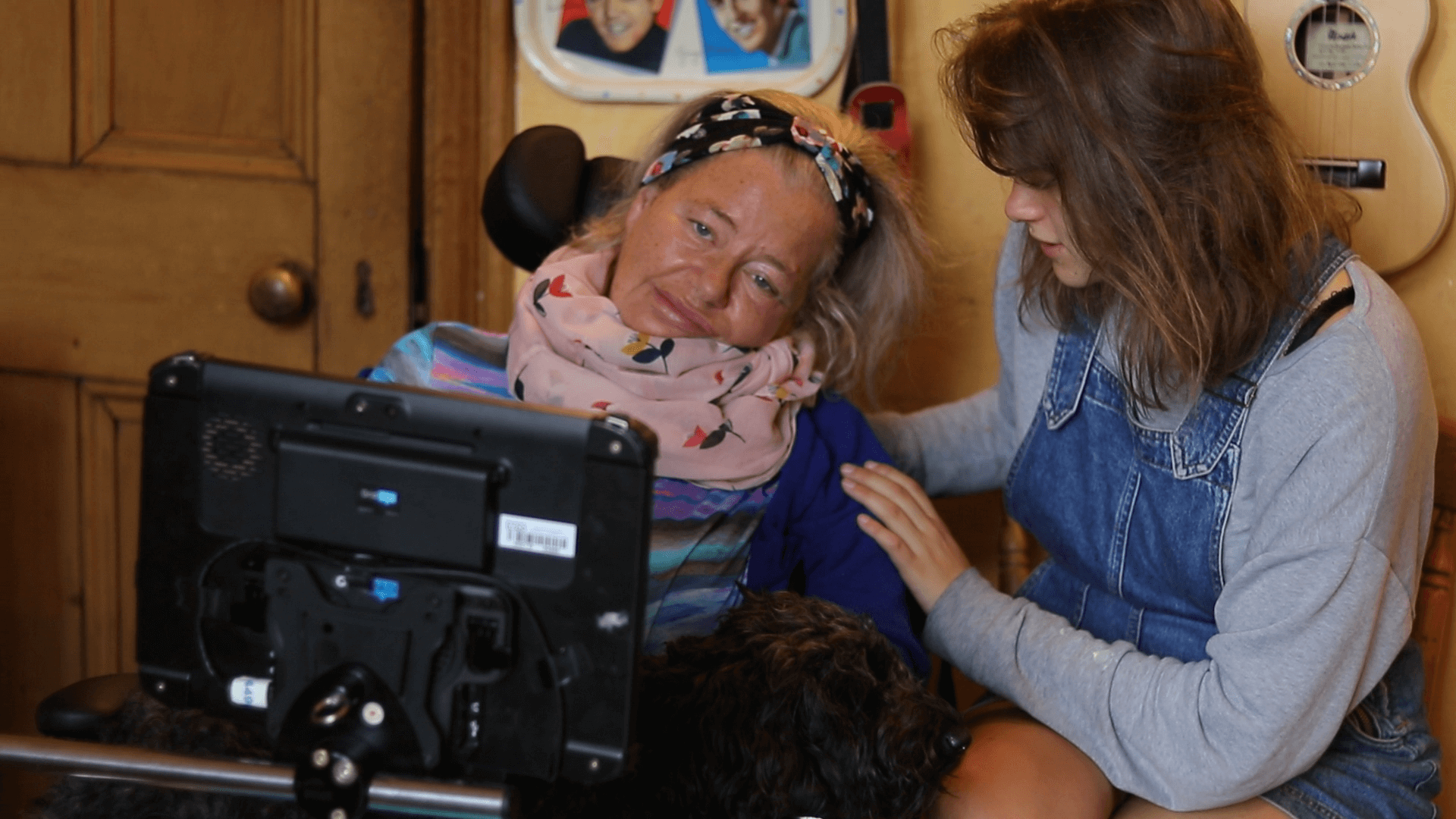 Jess' Story
When my mother, Clare, was diagnosed with motor neurone disease (MND) she was just 53 years old and I was in my final year of my A-Levels. The diagnosis was as devastating to my family as you might imagine. MND can develop at any stage, and can particularly affect a person's speech, their ability to swallow and their breathing. Mum became confined to a wheelchair, using specialist equipment to help her communicate even the most basic of requests.
We already knew about the support we could receive from Hospice in the Weald. Mum used to be a volunteer in the Day Service. So, while the thought of coming to a Hospice may be scary for some people, we knew immediately as a family that they could provide the care and support we needed. With Mum at home, my Dad, Giles, was her main carer – with support and guidance from Hospice in the Weald.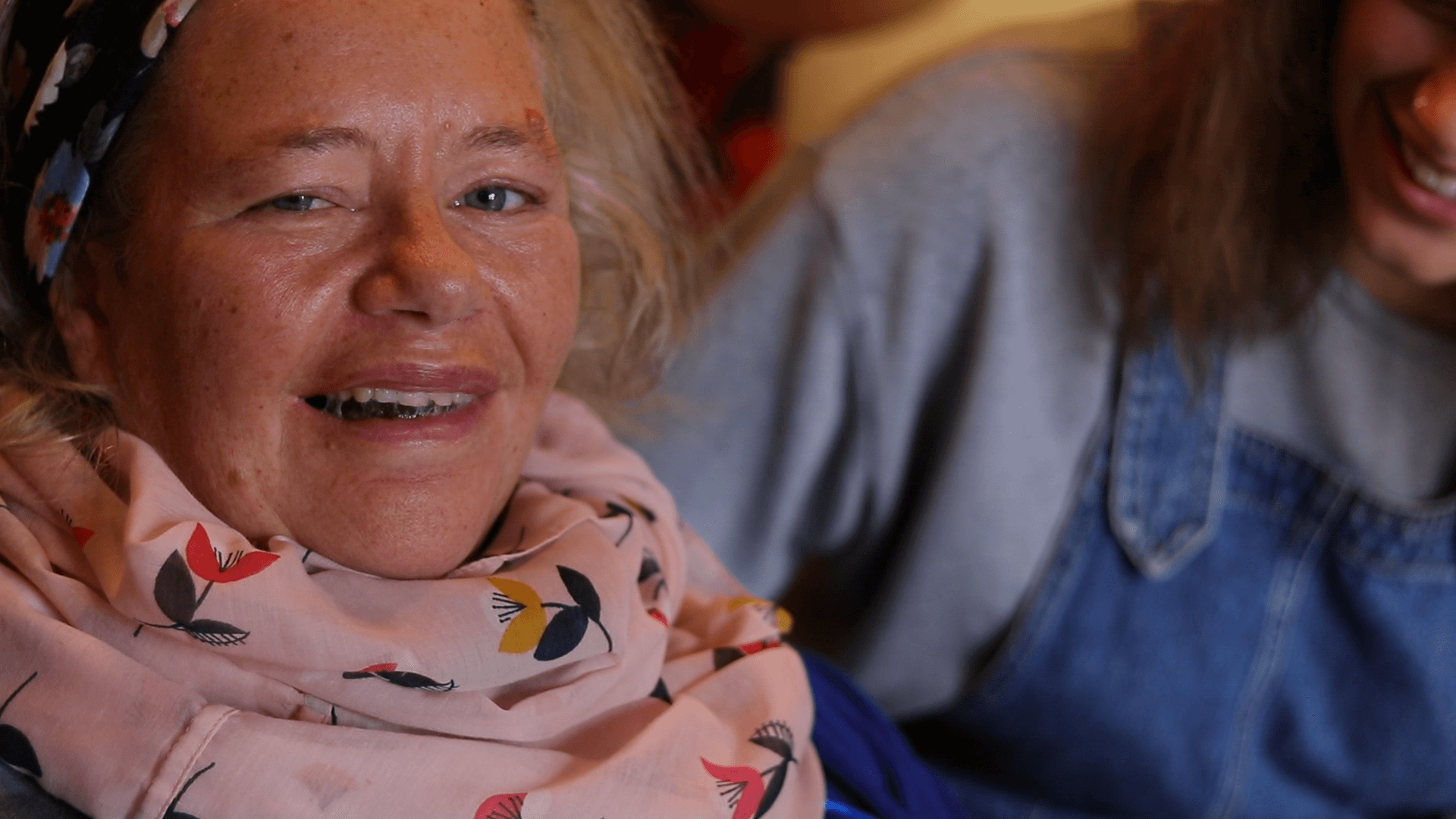 Those early stages of Mum's illness were a huge learning curve for my Dad, brother and I – as it is for every family with a loved one learning to live with a terminal illness.
We learnt to care for Mum as well as learning how to support each other in becoming her carers. Mum lost the ability to talk, communicating instead with an eye tracking device. While this meant we could still understand each other, the time it took in using the device meant we lost the quick chats we would always have, checking in with each other, laughing at a small joke, were lost.
Throughout it all, Hospice in the Weald was very important to us. We attended the Day Service together where every part of the day is designed to support the patients and their families. We shared meals with other people who were also experiencing challenging times. It sounds strange, but it really helps to spend time with other people who are going through similar things. Having these precious moments and spending time with Mum was very special and meant I was able to be her daughter, not just her carer.
Additionally, I received counselling at the Hospice. As you can imagine, I found it very hard to process Mum's diagnosis as I'd never had a family member have a diagnosis of this scale. I had only just turned 18 and I was trying to balance exams, choosing which university to go to, social life, and now, my Mum's illness. Life had been thrown upside down: it all felt so unfair. I was able to vent during my counselling and get everything off my chest without feeling like I was burdening my family with these feelings.
In Kent and East Sussex there are so many families like mine coming to terms with the devastating impact of a terminal illness diagnosis. Every year Hospice in the Weald helps 6000 people like my Mum, Dad, brother and I. It costs £7million each year to provide such amazing care.
Surrounded by trained staff and volunteers, I was confident in the care that my Mum was given when we went to Hospice Day Service, meaning we could relax and spend time together. Life reached a new normal – a fragile new reality.
---
A crushing change
But, six months later our delicate new family life was thrown into turmoil once more. Dad was diagnosed with a brain tumour. Dad and I had worked together as a team to ensure my Mum was cared for, comfortable and happy. But this was about to change. In the summer after I had finished my A-levels Dad became very ill, and I was thrown into being a carer for both of my parents. It was a very tough time, my precious family had changed beyond recognition. My Dad changed so quickly. He used to be the man who picked me up and swung me around when I got home from school. But after only a few months he struggled to walk, and I had to do little things like fasten his watch onto his wrist for him.
Whereas he used to be such an active person, always walking our huge dog, he began to spend most of his time sat in a chair or resting in bed. He could remember things from the past, but processed new information in a childlike way. It was like the man that we used to know was still there, but at the same time somehow not. He could still recite lyrics from his favourite Beatles songs but couldn't remember what had happened that morning.
Dad was melting away in front of my eyes. It was heart-breaking.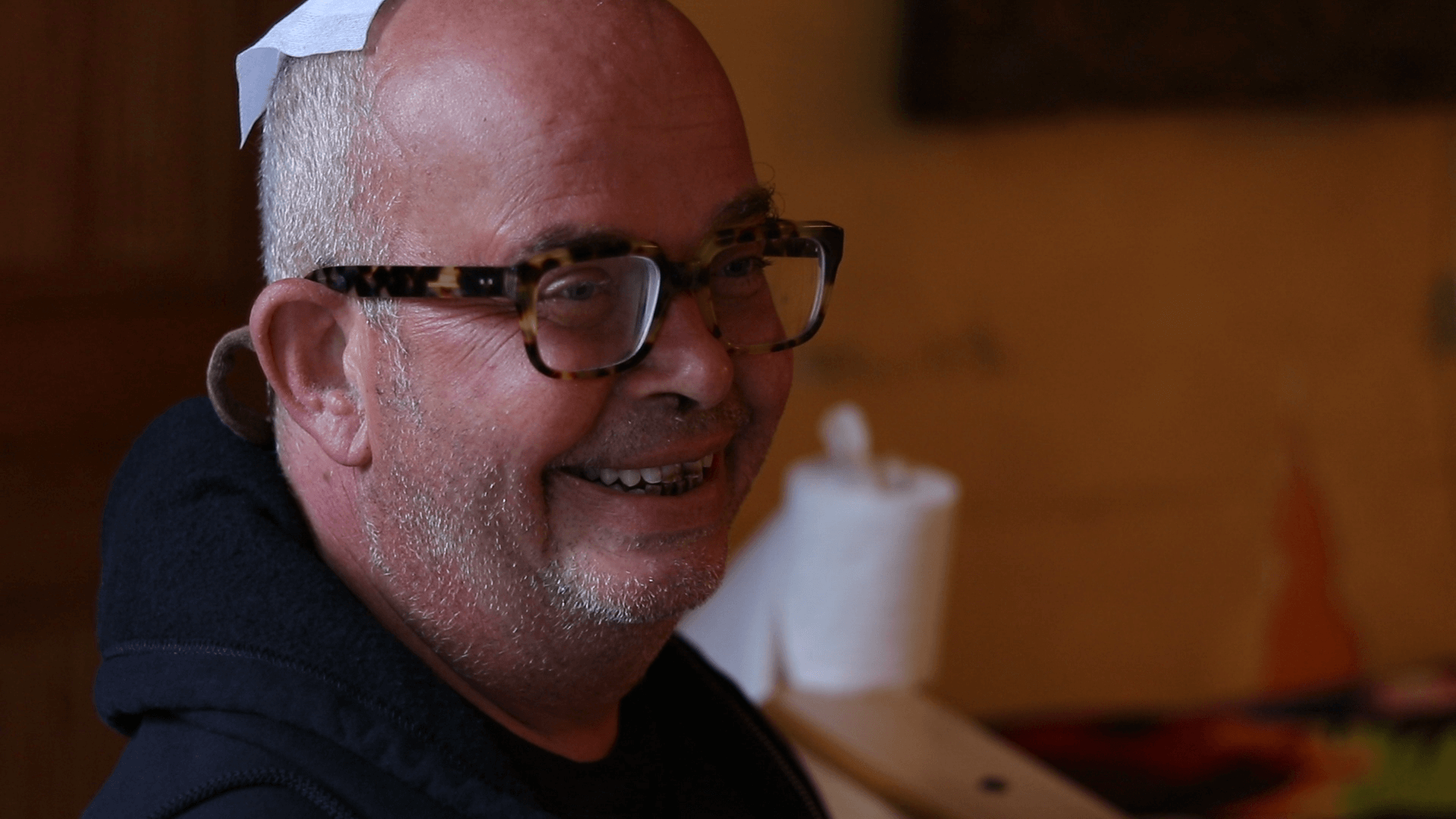 Through it all, I had to look after him and Mum. I gave them their meals and medications, and some nights I slept downstairs with them. It was very, very hard; my role became both a carer and a daughter. The roles got mixed up and sometimes it felt impossible to be both. However, Hospice in the Weald continued to provide such amazing support. Not just care to my parents, but as a place I could come and spend time as their daughter, not their carer.
We became a family again. We began to rebuild some of the precious moments we had lost. The team from Hospice in the Home – nurses who come to your house to provide Hospice care – meant I felt completely supported in caring for my Dad and Mum.
The Hospice team visited us at home regularly and without them, there is no way that I would have been able to cope. It just wouldn't have worked. The Hospice nurses checked his medicine and pain levels, making sure he was as comfortable as he could be at all times. When they visited, they always checked on me too, bringing a smiling, cheerful face – just what I needed when feeling low.
---
Precious time together
My Dad was the most outgoing and charismatic person I knew, never one to shy away from striking up a conversation with anyone. He was well known in our area particularly due to our large Newfoundland dog that he would take with him everywhere. He was an actor turned artist and musician and you never saw him without either a sketch pad or ukulele. Although my dad has suffered through his life with Schizophrenia, his spirit was rarely shaken and his love for my Mum, my Brother and myself was beyond anything we could imagine.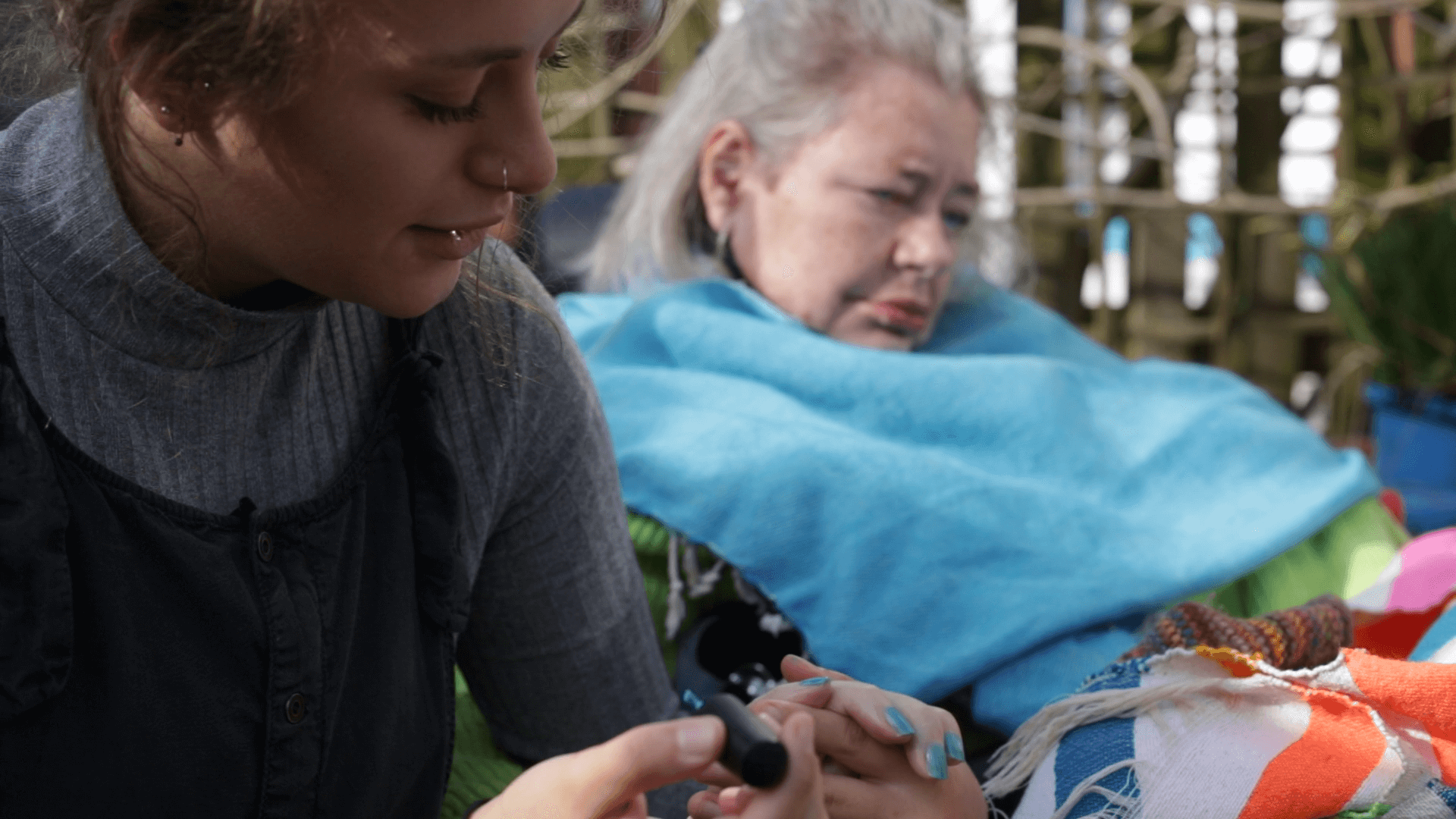 Last September, my Dad died from complications caused by his brain tumour.
In the days after Dad's death, the Hospice offered counselling for all of us, including my Mum despite Mum's difficulties communicating. It was little things like this that made the world of difference to our family at that time.
Thank you, Hospice in the Weald, for giving us the chance to stay a family up until he died.
The Hospice has also been able to offer me counselling to help me after my Dad died and come to terms with what my family has been through. I cannot tell you the invaluable support all the teams at Hospice in the Weald have given to my family.
They provide all round care and worked with my family to figure out how best they could support us. This meant we could spend every precious moment possible together as family throughout this difficult time. And for that I will be forever grateful.
There are so many families like mine learning to live with terminal illness, and all the changes that can bring to family life. You can make sure they get the support they need by donating and supporting us today!