Bereavement is a major event that can turn your world upside down and it can hit you in ways that you may not be prepared for. Grieving is a highly personal and individual experience, and depends on many factors, including your personality, coping style, life experience, belief system and the nature of loss.  No one quite knows how a bereavement will affect them, but we are here to try and support you and to help you find a way forward.
Our range of services can support you through this difficult time. Within six to eight weeks of a patient's death, we write to every family member and those who are important to them (if we have contact details) with information about the support we offer.
We are, of course, very aware that this might not be quite the right time for you to access our services, but please know you can contact us any time following the death of your loved one.
The grieving process takes time.  Healing happens gradually: it can't be forced or hurried – and there is no 'normal' time for grieving/  Some people start to feel better in weeks or months.  For others the grieving process is measured in years.
Please contact the Counselling and Support Service to talk through the support we can offer you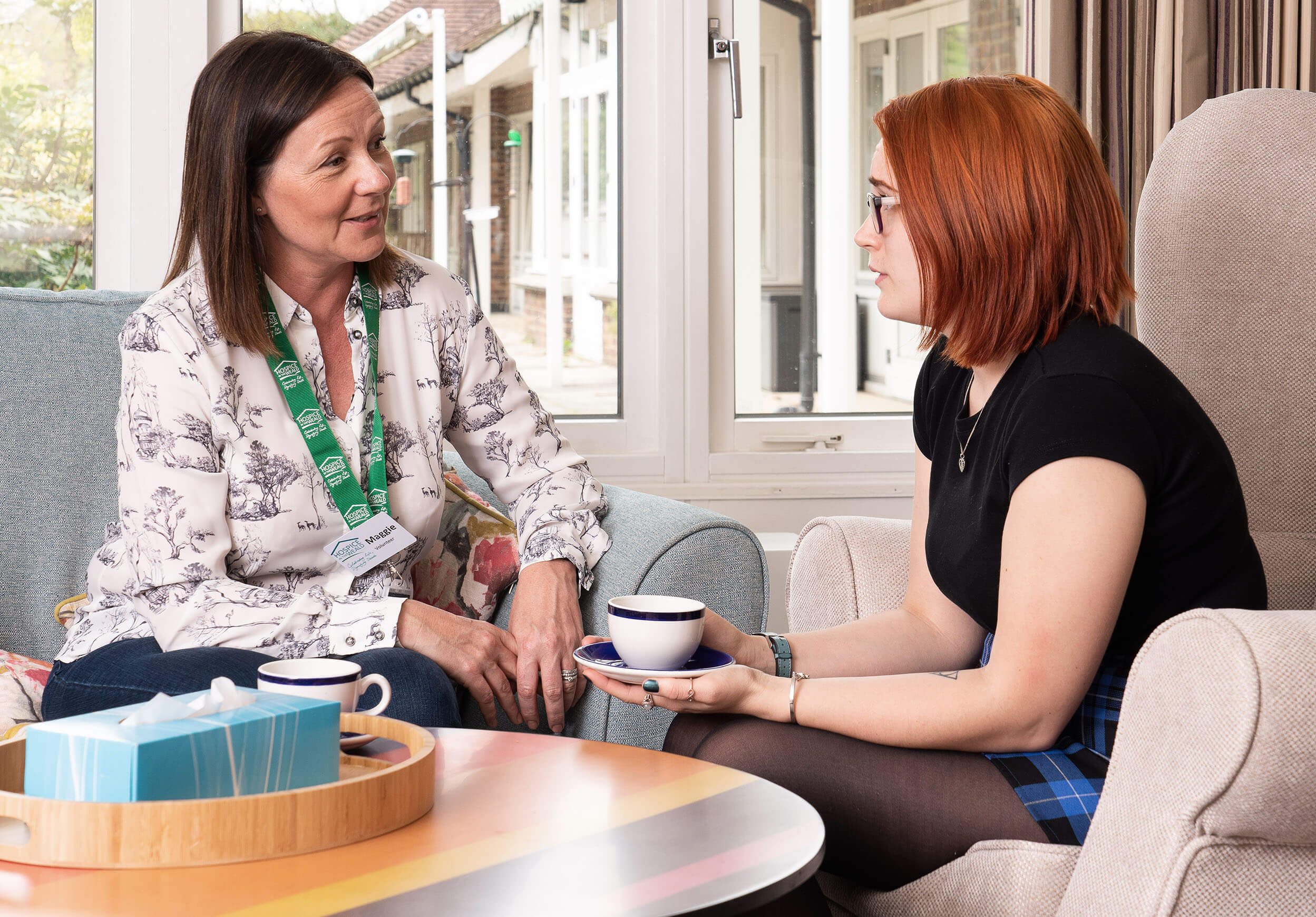 Support and activities
Counselling
We are here to help you talk about your feelings and offer you support.  Counselling is a talking therapy, it is an opportunity to help you find ways of coping with change and face the challenging effects of loss.  It is a chance to share and explore feelings or experiences that you may not feel able to share with family or friends.  Please contact the Counselling and Support Service on 01892 820525 to arrange an initial assessment for bereavement counselling.
Time to Be
Is an alternative to more traditional counselling and can offer support to those who feel counselling may not be quite appropriate for themselves.  Time to Be is a model of care which involves you in finding your own ways to cope with, and talk about, loss and bereavement.  It includes learning about relaxation and breathing techniques and about creating space for yourself.
Tea Junctions
Our Tea Junctions are currently on hold – due to COVID 19 – until we are able to safely meet together. They are informal social gatherings, where bereaved carers, family and friends can get together so they can meet others who are going through a similar experience. We provide tea, coffee and a warm welcome and importantly the opportunity to talk.
People often value the opportunity to meet others in a similar situation as well as the chance to enquire about further support available. Tea Junctions are held once a month at the Hospice. Please do contact the Counselling and Support Service if you would like to go on the waiting list for when theses meetings begin again.
Connect and Reflect
Connect and Reflect is an online support group for those within the first year of their bereavement where people have the opportunity to meet others in a similar situation. It is facilitated by members of the Counselling team.
Please do contact the Counselling and Support Service if you are interested in attending this online support group. The meeting takes place on Zoom and our experienced staff are skilful at helping people less familiar with technology to join the group
Remembrance Gatherings
Our Chaplains holds First Anniversary Remembrance Gatherings throughout the year to help family members and carers mark the one-year anniversary of their bereavement. For more information, contact the Counselling and Support Service on 01892 820525. For more information on the Spiritual Support we provide please visit the In Patient Ward section of this website.
Contacting us
If you would like to find out more about these events you can contact the Hospice's Counselling and Support Service directly on 01892 820525 or by completing this form.