Bargains and Treasures – that sums up charity shopping perfectly in my opinion! I've been an avid charity shopper for over 10 years now, and I can't ever see myself going back to fast-fashion, high-street, or online shopping. My favourite thing about charity shopping is that I find I can really express myself and find quirkier items to suit my taste. Not to mention the bargain prices of course! Another benefit is that it is sustainable, circular, and money spent goes towards amazing causes. Hospice in the Weald charity shops are some of my favourites – in some of their shops, most items are only £2, so they are some of my favourite places to go for a little (or large) shopping spree! I also feel great that any money I spend in store will go towards providing care to those living with a terminal illness across West Kent and Northern East Sussex.
My two local Hospice in the Weald shops are the Caterham and Oxted branches. I've recently had shopping sprees at both branches and wanted to show some of my finds! And again, each of these items were only £2!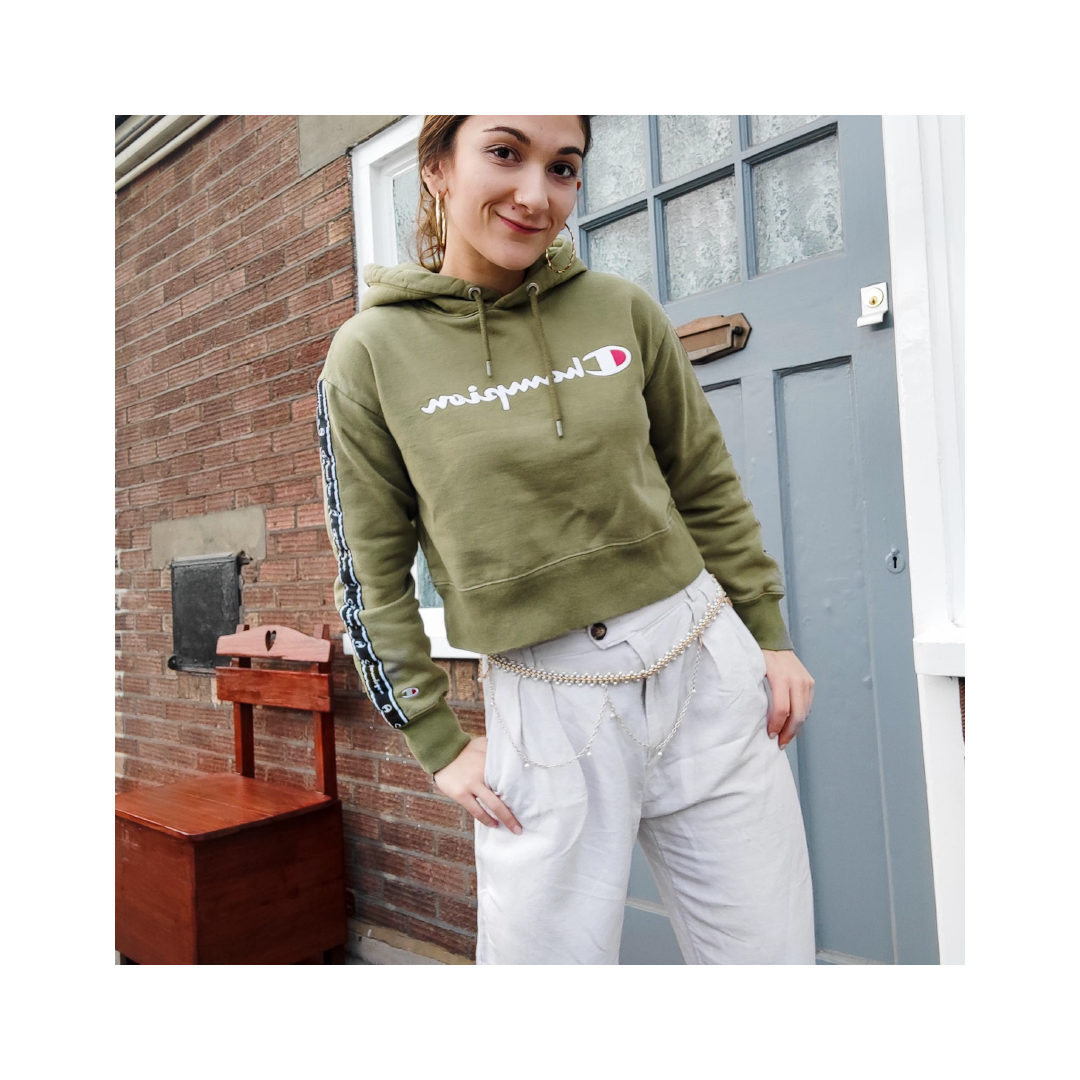 At the Caterham shop I found exactly what I've been after for a while now – some plain yet colourful, oversized men's t-shirts I can style up with a pair of jeans, or even wear to the gym. I also find they're great for layering over a turtleneck top this time of year. Speaking of turtleneck tops (they're my weakness), I found a fab stripy one that I haven't taken off since I bought it! It's such good quality, and really snug and warm. Another weakness of mine is funky jeans and I struck gold with the most adorable embroidered, tasselled dark denim jeans. They go so well with a fleecy, high neck blue-chequered top I also found at the shop. I'm a sucker for motivational quotes and I managed to find a blue top and terracotta jumper with quotes on that I absolutely love – the top says, 'it's ok not to be ok, keep going' and the jumper says 'make yourself a priority'. Such important things to bear in mind, and I feel by wearing them out I can encourage others to do the same! I also found a great pair of sunglasses for £1, which I am sure I will be wearing non-stop when we eventually get some sunshine back. And last but not least, my best find… Reebok trainers… for £2! They look nearly new and are a lovely grey-blue colour that goes with so many things. And they're so comfortable.
I also wanted to share some of my top tips for charity shopping:
1. Take a measuring tape or try on items if a fitting room is available. I find that I can be one size for one brand, and two sizes up in another! This can also be helpful if you come across vintage items as sizing has been different in the past.

2. Ladies, don't be afraid to explore the men's section! I've found some of my favourite funky jumpers and shirts in the men's sections of charity shops.

3. Most importantly, take your own re-usable bag. Some shops may not be able to provide bags (especially big ones if you tend to go on massive shopping sprees like me!). It is also good for the environment!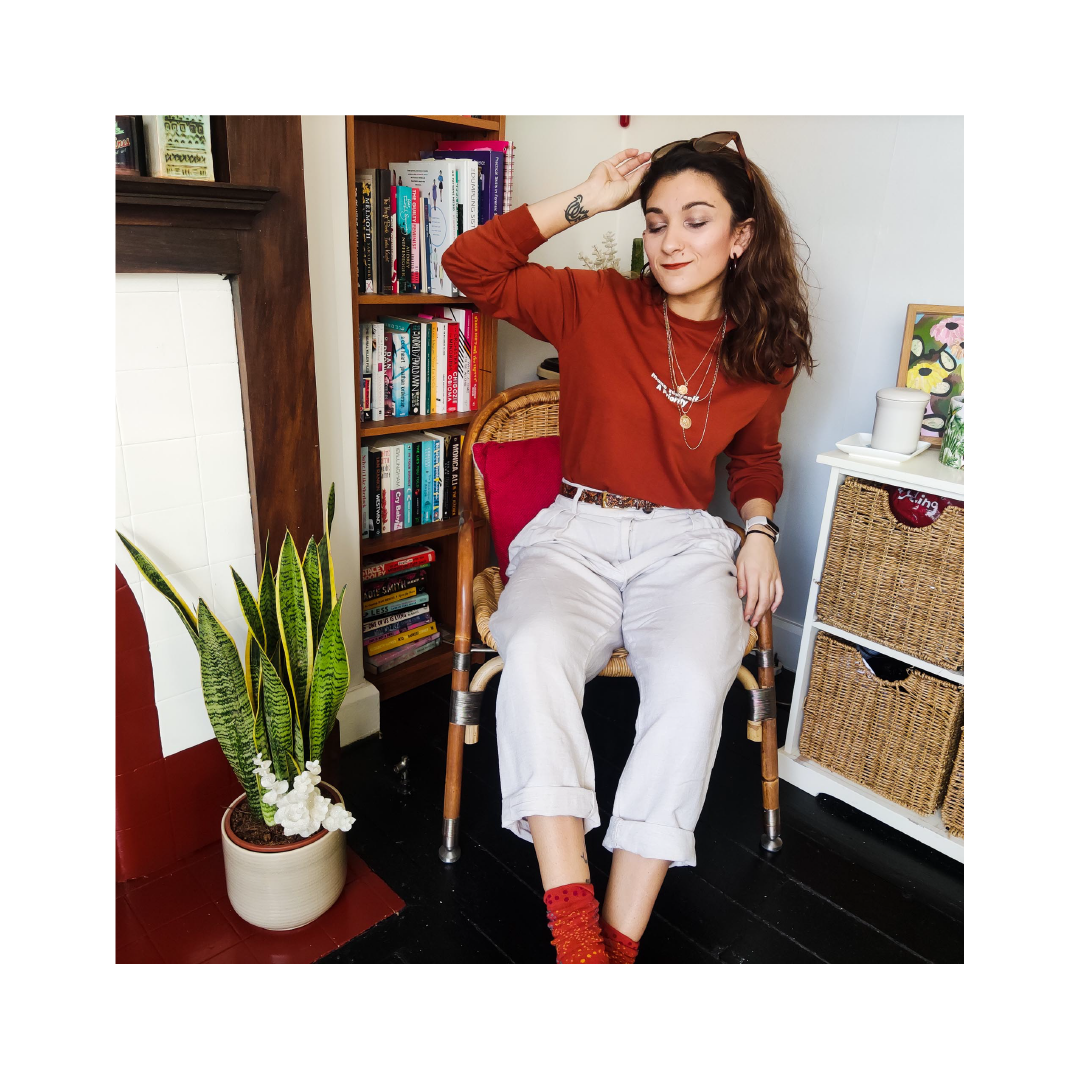 At the Oxted branch, I went a bit book-mad and ended up buying 8 books! How could I say no – they were 4 for £1? what a bargain! I also found the most amazing pair of comfy, cream linen trousers (yes, linen for £2). They're so versatile, and I've been able to style them up and down with so many different tops! I also found two cropped hoodies, which I love wearing when I can't be bothered to put together a full outfit. One of them is 'Champion' brand, and their hoodies can be up to £40 in sports shops, so I'm chuffed with my £2 bargain. Lastly, I wanted to push myself a little out of my comfort zone and try a colour combination I'm not too familiar with – pink and red. I found a V-neck, striped pink and red jumper which I actually love, and I'm so glad I bought. That's another great thing about charity shops – you can try new styles without spending a load of money on them!
Oxted Shop
15 Station Rd E,
Oxted
RH8 0BD
Caterham Shop
39 Croydon Rd,
Caterham
CR3 6PB