Hospice in the Weald welcomed the Marquess of Abergavenny DL as guest of honour at a tree planting ceremony held at Cottage Hospice in Five Ashes, Mayfield, on Friday (14 January) to celebrate the Queen's Platinum Jubilee.
Lord Abergavenny, representing the East Sussex Lieutenancy, was joined by long-standing Hospice supporter Sonia Burt to plant a sapling apple tree as part of the Queen's Green Canopy (QGC), an initiative encouraging people from across the United Kingdom to 'Plant a Tree for the Jubilee'.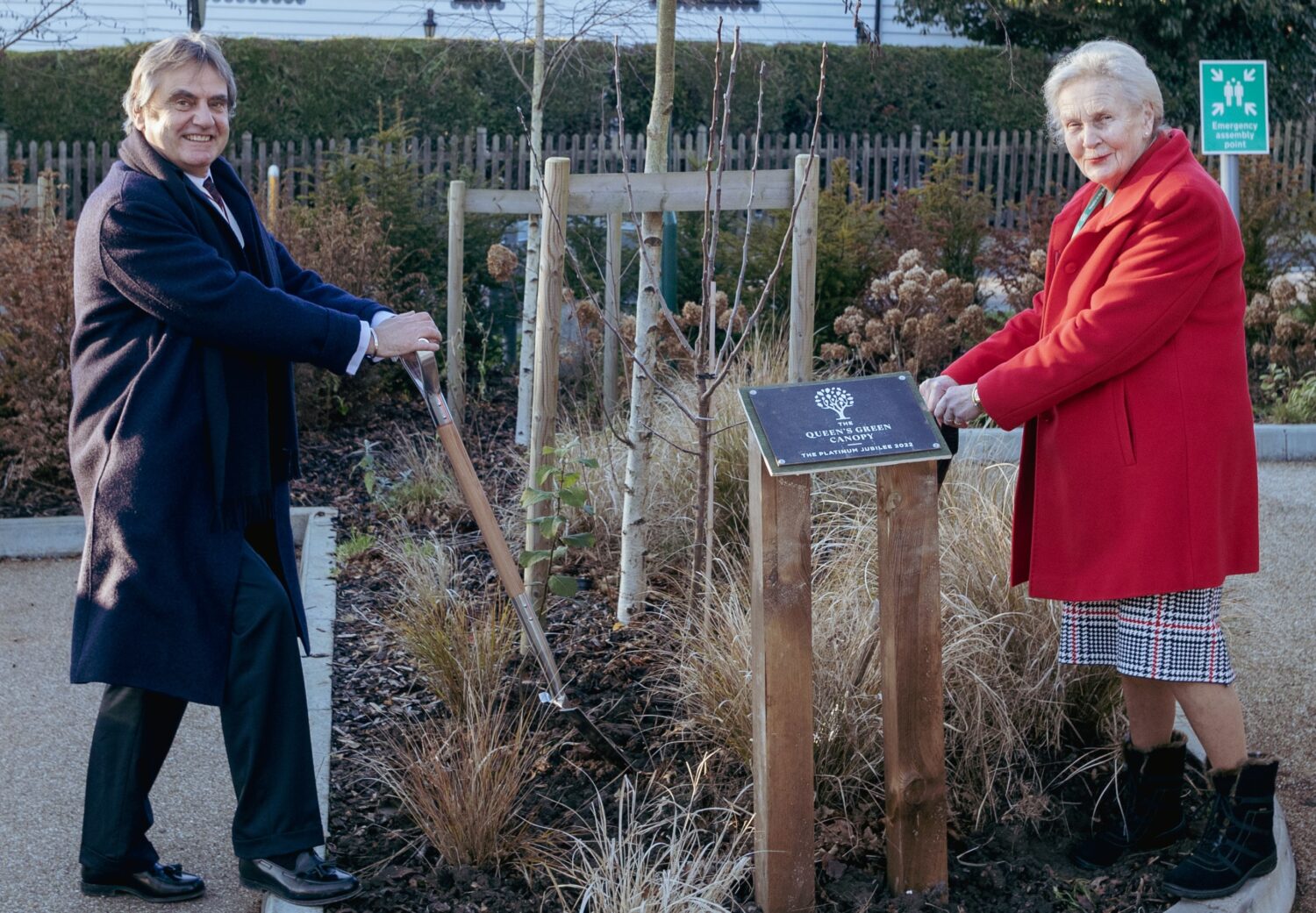 The Cox's Orange Pippin tree, which is known to attract wildlife along with producing sweet fruits, was planted in the beautiful grounds of Cottage Hospice, the first of its kind in the UK to provide a home from home environment where patients are cared for by their loved ones, with support from Hospice staff and trained volunteers.
Lord Abergavenny said: "The planting is to mark the Queen's Platinum Jubilee year – 70 years on the throne and 70 years as head of the Commonwealth. It is an initiative that will help the environment, by enabling the planting millions of trees in the UK, changing our landscape and gardens for generations to come.
"The tree we are planting today with the help of your representative volunteer Sonia Burt is an apple tree – Malus Domestica or more commonly known as the Cox's Orange Pippin. Like the environment it will need nurturing and watering."
The tree is marked with a Queen's Green Canopy plaque donated by Sonia Burt who was thanked by Lord Abergavenny for her tireless volunteering work for Hospice in the Weald, along with the other many volunteers who Lord Abergavenny said "help to make the Hospice such a special place".
Nick Farthing, the Hospice's Chief Executive, who also attended the ceremony, said: "We are delighted to be 'Planting a tree for the Jubilee' at Cottage Hospice as part of the Queen's Green Canopy. What better location than here in an area of outstanding natural beauty, which has informed the architecture of our wonderful Hospice building, with central 'tree columns' supporting the living roof and of course our ten rooms are named after trees.
"This apple tree is a wonderful symbol of growth and optimism as we start the new year. I am sure will be enjoyed by Cottage Hospice patients, staff, volunteers and the local community for many years to come."
The sapling is among trees being planted at four hospices in East Sussex as part of the QGC, thanks to Kathy Gore OBE DL of Friends of Sussex Hospices, who also attended the ceremony, along with Head of Cottage Hospice Kerry Norman and fellow staff.