Jackie shares the story of her mum, Pat, and how coming together to remember her brought a sense of community that she shares now in our Remembrance Ribbons campaign.
"When I remember my mum, I think of the things she loved and were a key part of her life; her family, her friends, her gardening, and fundraising for the Hospice. The Hospice became a big part of her life over 40 years ago. With a career spent in nursing, my mum knew how Hospice in the Weald could provide the extra support and end of life care that all of us want for our loved ones. In the 1980s mum's personal experiences combined with her professional knowledge, and she saw the need for local Hospice care more clearly than ever.
She cared for both of her parents-in-law round the clock, as they reached the end of their lives, in the family dining room, unable to be cared for in their own home. My grandparents both died in different settings to those my mum hoped to deliver. She did her best, and she was a fantastic nurse, but she felt the end of their lives could have been more comforting, for them and for us left behind."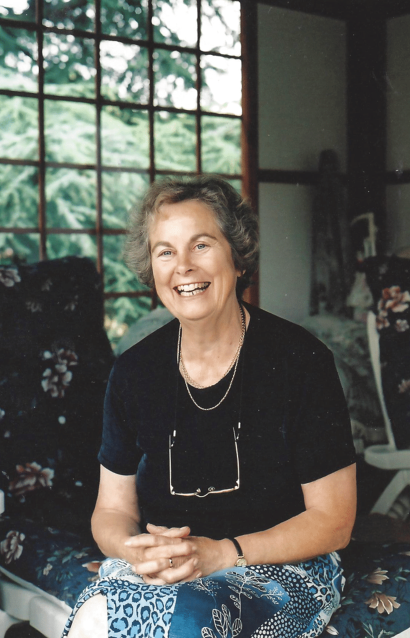 A force for good
Pat's experiences inspired her to start fundraising for the Hospice. She joined a Friends' Group in Sevenoaks, and the Hospice became part of her life.
Jackie explains: "My mum raised many thousands of pounds over the years, from collecting donations, to setting up the Knockholt Nearly New sales so fondly remembered to this day. Her fundraising started from truly understanding how Hospice care would help local people. She became a much-loved local face and member of the community, and we were so proud of her fundraising and achievements."
"It seemed fitting that all these years later, when Mum was in need of Hospice care, it was there."
In 2017, Jackie was diagnosed with breast cancer which prompted Pat to be checked, discovering she also had a lump. They sometimes had treatment together in hospital, which brought them even closer. Pat was living in a care home when she died from COVID, with complications from Parkinson's, in January 2021, and Jackie found the Hospice's support invaluable at the end of her mother's life. She explains: "I was fortunate to be with Mum for her last week, and having learned from the Hospice nurses, I ensured she had the best ending with their help. We played her favourite music and talked to her, she knew she was not alone, and she did not suffer."
Coming together in remembrance
In September Jackie arranged a memorial service for Pat, celebrating her life with a Flower Festival. "Mum's memorial was a celebration of her life with a Flower Festival at Knockholt Church. It was so cathartic for me to be able to bring our village friends together. They all spoke about Mum and we shared happy memories. Remembering our loved ones can be painful, but it can also be a happy time."
"This experience reinforced how important and precious the ending of life can be, and for those of us left behind, the way in which someone leaves us has a profound impact on our grief. The Hospice helping Mum have a good end to her life truly did help me and my family in our grief."
I am supporting the Hospice this spring by hanging a Remembrance Ribbon in memory of my mum. Please join me by adding a wonderful ribbon to the trees too.