Alison Drury first experienced Hospice care when her two close friends and her sister-in-law were all cared for at the Hospice. Sarah Drury shared her story from the In-Patient Ward in 2020, and at the time, Alison visited her regularly.
At the same time Alison was supporting her Mum, Janet, whose Alzheimer's was progressively getting worse.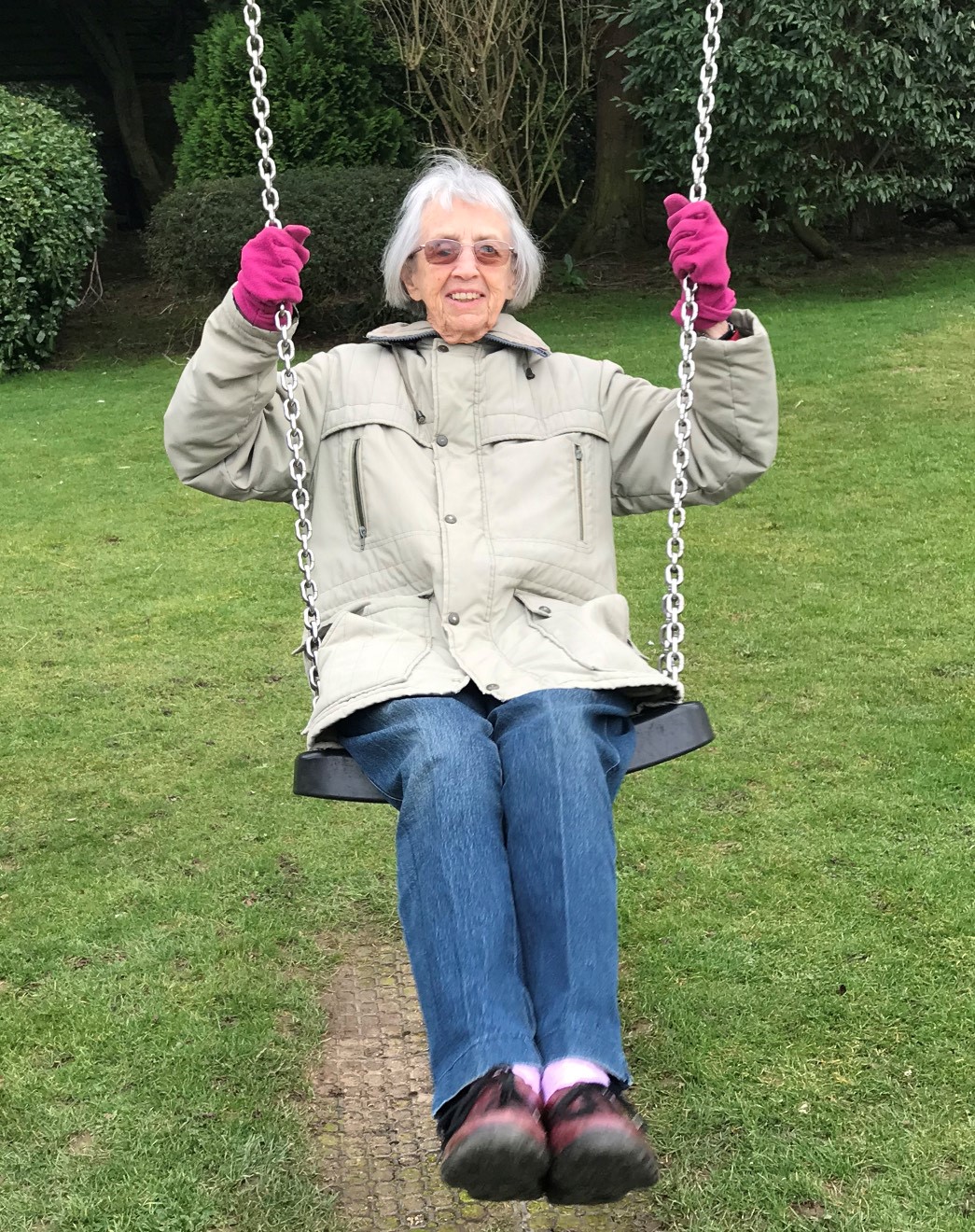 "Since diagnosis in 2015, Mum was never in denial, she was fighting all the way. Mum had an eye removed due to melanoma, but it didn't stop her being a whirlwind of activity. She was an active gardener, dancer, swimmer, and 'taxi driver' for friends who needed to get to their many social clubs. However, last January it became obvious she was struggling living alone and we organised carers to help in the daytime. Then, when all her clubs and activities stopped due to COVID, we had to increase the carer support. I was also going in every morning and evening.
Lockdown and masks increased Mum's confusion and she deteriorated rapidly. By September 2020 she became physically unwell, but it was difficult for her to express how she felt. Scans showed that, unfortunately, the eye cancer had spread to her liver.
The GP put us in touch with Hospice in the Weald and the lovely Hannie David came to assess Mum and suggested the new Cottage Hospice at Five Ashes might be perfect, as we weren't sure how long we had. We knew we needed more help to care for mum, but we really didn't want a nursing home as we probably would never have been able to visit mum in the midst of the pandemic. The thought of that was terrifying. Being at Cottage Hospice meant we were together, which is just the most important thing."
Bittersweet circumstances, where Alison had been made redundant, afforded her the time to accompany Janet to the Cottage Hospice and they both moved in on 1st December.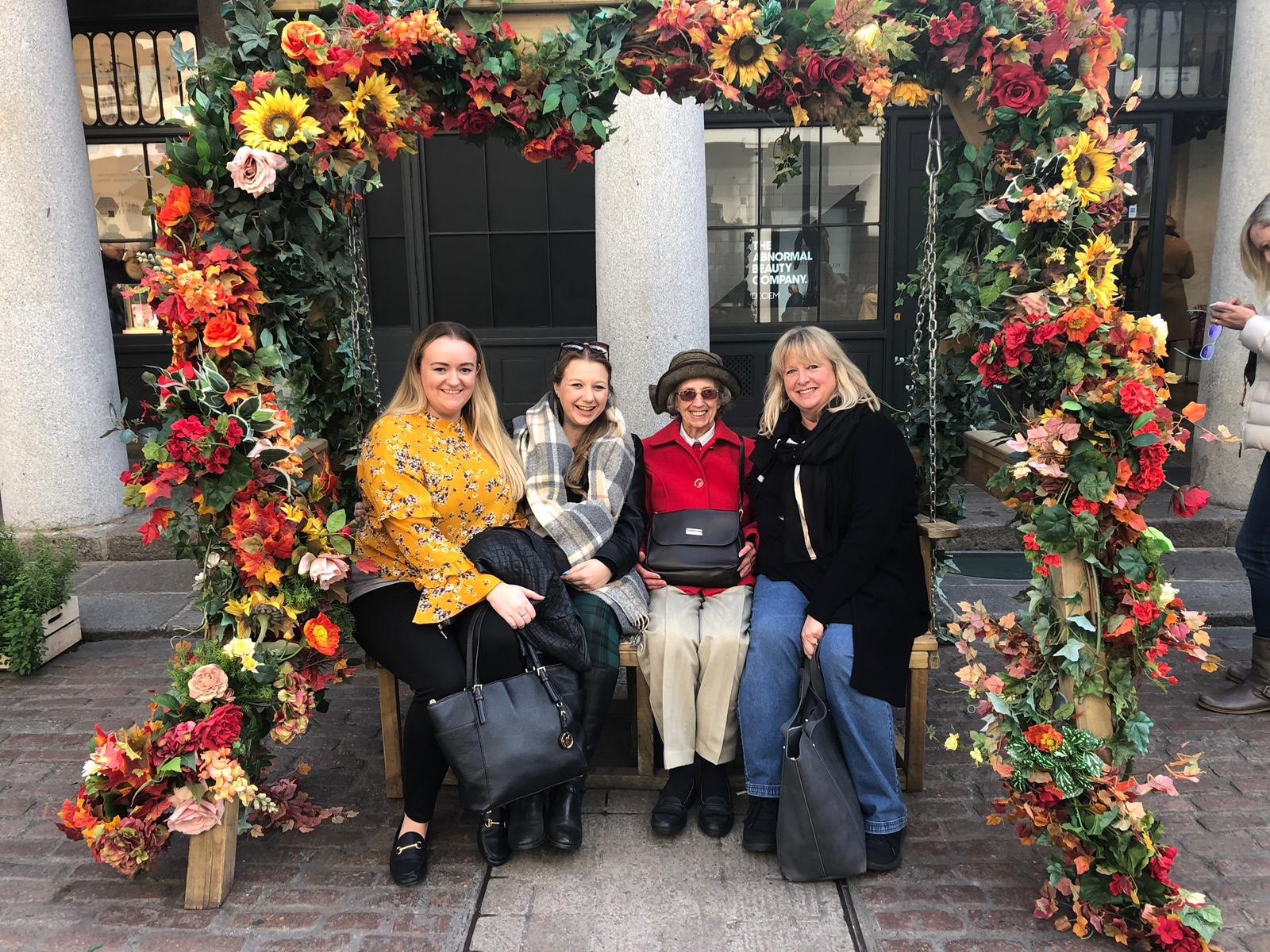 "Mum didn't know where we were going. I tried to explain it as a nice break where I could look after her but with the extra support of the lovely nurses. The room was perfect, like a hotel suite, with two proper beds, a large bathroom, sofa, table and chairs, fridge and patio doors overlooking gardens and fields. I really thought we might be there for a few weeks and on the first day I wrote all my Christmas cards and set up my computer, so I could look for work while Mum slept. I even rearranged the furniture to suit us. I hadn't realised how weary I had become over the previous twelve months and, after a couple of fitful nights where Mum was very agitated, the staff suggested I use one of the guest rooms while they took it in turns to watch Mum. That was bliss, and I was much more rested and better able to devote my time to Mum, catnapping when possible."
Janet's granddaughters, Hannah and Georgie, were able to visit, bringing their work with them, while also getting meals from the kitchen, doing the laundry and allowing Alison to catch some sleep. When it was obvious that Janet was close to the end of her life, they also stayed over. "I'm amazed at how the girls coped with the experience but being there for Grandma (and me) has empowered us to realise what we're capable of. I admit I was nervous at what would be expected of me, but the staff were so sweet and encouraging and never pushed me to do anything I wasn't comfortable with.
We couldn't have asked for a more welcoming, supportive, and homely environment – even more important in this COVID-restrictive world. I would like to name and thank all the team, but I would hate to miss anyone out – they know who they are – and I wouldn't hesitate in recommending the Cottage Hospice to anyone that might not be sure."