Whilst the reason for us getting in touch with the Hospice was for my mum's end-of-life care, the range of services on offer went way beyond that – probably like a lot of people, we had no idea how far they stretched. I met so many different people accessing a lot of different types of support, for a variety of reasons.
It really stunned me just how much we were offered.
Seeing my mum deteriorate was difficult to watch. She'd undergone lots of treatment for her breast cancer, but unfortunately it had spread further, and before long she began to feel dizzy. After a few tests we discovered it had spread to her brain. At that point we knew it would be a terminal diagnosis. It was then that Hospice in the Weald got in touch and began to explain how they could help my mum and the whole family.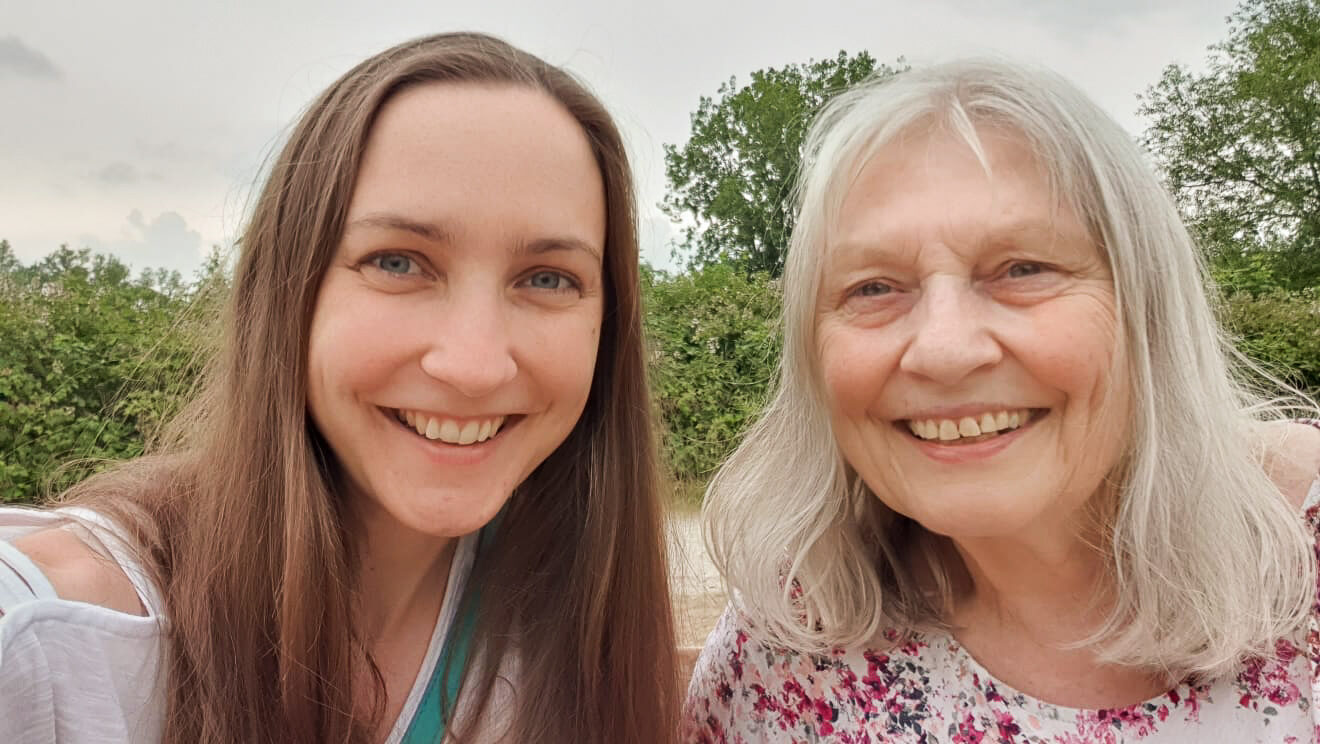 Mum was incredibly open to support from the Hospice where it could help. She understood she couldn't beat her illness, but she wanted to do all that she could slow it down, to continue living the life she wanted.
We first visited the Hospice itself when my mum wasn't coping well with her medication. We were in a vicious cycle at home where mum felt so nauseous that she couldn't keep down any of the anti-nausea medicine or the steroids she needed to reduce the swelling on her brain, which was the main reason for making her feel sick as well. We stayed on the Ward at Pembury for 3 weeks. Spending that time at the Hospice enabled mum to feel better. Before this, any movement of her head would put her in intense pain and discomfort, as well as the feeling of unbearable nausea. The nurses helped mum to feel better within a few days; we were able to see an almost instant change.
The Hospice really helped to not only get mum's symptoms under control, but when we got home, they were helping us to keep her out of pain, so she was more comfortable. We had to move to downstairs living because mum's mobility was restricted, and they helped us to get everything set up – with their help, it worked for mum, and it worked for us. Not knowing where to start, they guided us through everything. We were complete novices; I doubt many people know what to do when their mum is dying. I hadn't needed to support anyone through anything like this before.
Towards the end, mum couldn't open her eyes, but we knew she could hear. So, we played her favourite music and comforted her with familiar sounds. We began to also read to her. It felt like a full circle, from her reading to us as children to us now reading to her. Being a teacher, I had to record my lessons and often had to read to the class. So, I asked if she didn't mind me recording a reading for my class and from there that became something we'd do together. My brother, sister or I would read to her which she really liked. It was strangely comforting for us too.
The sicker she got, the less she could communicate with us. It got to the point where she couldn't tell us what she wanted, apart from 'Goo'. The word 'Goo' will forever be stuck in my mind. 'Goo' meant anything soft that she could eat. Custard, macaroni cheese or rice pudding, that all became affectionately known as 'Goo.' Even the nurses knew what Goo was. I'll always remember 'Goo' when I have custard or soft food and think of mum. Although it was a tough time it did still make us all laugh.
The doctors and nurses were always open and honest with us, in a kind and caring manner. They helped mum and us to understand the options, and we never felt forced into making any decisions.
It was all in our control, but they made an enormous difference to us. Just having the support from available 24/7, whether we were at home, on the ward or at Cottage Hospice where mum died last May. I don't want to imagine what it would've been like without the Hospice – if I had to guess, it would've been immeasurably harder.